Simona Ama Ashia Osei is one of the most popular kids in Ghana as a result of how adorable she is. Aside from her looks, she is known to be one of the most fashionable kids in Ghana as she matches all her outfits in simple yet beautiful colors with respect to her footwear.
Simona Real Name
The pretty daughter of Ghanaian rapper Strongman born Osei Kwaku Vincent and Nana Ama Strong is named Simona Ama Ashia. She was born on August 21, 2019. Simona is two years old.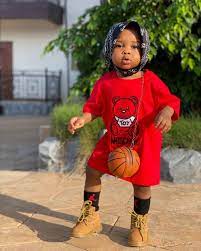 Simona Parents
Strongman is a popular Ghanaian Afropop, Hip Hop, and HipLife. He has been making headlines in the music industry with his music. Nana Ama Strong, a Ghanaian entrepreneur is also the mother of Simona.
It is alleged that the two have dated for over five years now but are not married yet even though they are blessed with Simona.
Strongman always goes around with his cutest firstborn Simona.
Simona Career
Baby Simona is one of Ghana's youngest fashion influencers. She has gained a lot of followers on all her social media platforms. She serves as a brand ambassador to a list of Children's brands where she has been spotted rocking their outfits.
Despite her age, Simona has started building her career. Her sense of fashion has attracted several social media users as well as fashion brands.
Not long ago, Simona was performing on stage with her father Strongman. Finally, she joins Cecilia Marfo's "Watshawasay" challenge.
She inspires Ghanaians with old and new styles. 82,300 followers on iInstagram.
Simona Contacts
Instagram – @simonaoseistrong
Twitter – @Simonastrong