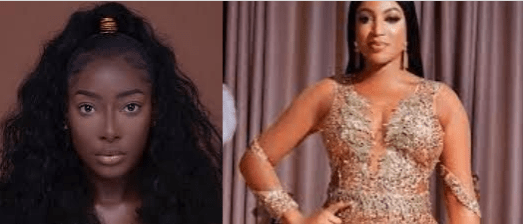 The Nollywood space is having a new drama unfolding as an actress, Dorcas Shola-Fapson has called out Dabota Lawson for stealing her work despite she being the intellectual property owner
The actress has engulfed the news headlines for several reasons as a few days ago she unveiled a brand new whip worth millions of naira that she gifted herself
The public has however been poking their nose into her relationship with popular actor, Timini Egbuson as many are claiming there's more to their friendship as they suspect romantically being involved.
Well, the Nollywood actress's recent outburst isn't about what we've mentioned above but this time around it's about a product being sold by colleague Dabota Lawson.
She claims Dabota Lawson had used her ideas in the products she released a few weeks ago as she shared pictures of her products claiming she's the blueprint of it.
According to her, she could be paid for intellectual property and she's yet to release many ideas rather than her product being stolen
She however shaded Dabota Lawson saying she should enjoy the five seconds of fame She has given her as a response is yet to be given.
The post Dorcas Shola-Fapson Sparks Beef With Dabota Lawson For Stealing Her Idea, Tells Her To Enjoy Her 5 Seconds Fame appeared first on Gossips24.com.