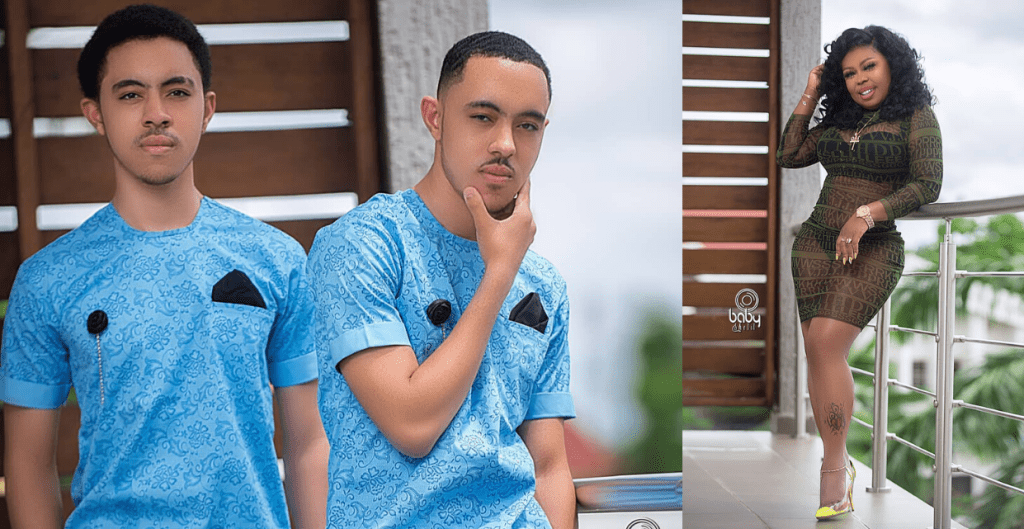 After she is done smoking her Ashaiman weed, she jumps onto the internet to spread lies about people and also brag about her non-existence wealth.
The mother of three has dropped another serious lie, and this time around, it's about how she dashes her twin boys (John Irvin Heerdegen Geiling and James Ian Heerdegen Geiling) 8000 cedis every week as feeding money.
According to Schwar who is a known braggart and a lover of boastful talks, her twin boys receive 4000 cedis each every week to use for food and other personal pieces of stuffs since they are now in school and not with her at home.
This lie is in the wake of clearing the rumours that purports that she begs people for money to feed her kids.
Ayisha Modi who is the whistleblower made these allegations against Afia Schwar in an explosive Instalive she hosted. – During the live feed, she revealed how Afia Schwar has been tormenting Rev Obofour and his wife's life with unending proposals for loans.
Ghanaians have rubbished these claims from Afia Schwar, according to a majority of social media users, Afia has flaunted several cars on the internet.
But non of them can be seen parked in her house therefore, this is one of her numerous internet gimmicks for engagements.
Source: Gossips24.com
The post "I give my sons 8,000 cedis every week as chop money" – Afia Schwar lies again appeared first on Gossips24.com.