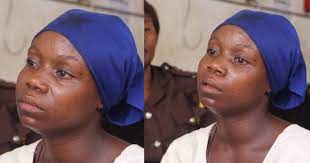 A 24-year-old Ghanaian woman has painfully divulged how she was imprisoned after stealing Ghc5 to feed her two malnourished children.
Akua Akyaa recalled her journey to prison in a video posted on Crime Check TV GH's official Facebook page.
Whiles narrating her story, she revealed that she used to work at a chop bar and earned Ghc5 each day.
She pressed on that when the owner of the chop bar where she used to work urged her to stay at home, it became very difficult for her to earn money to buy food and care for her children.
So she stole Ghc5 from her neighbor to purchase rice balls with groundnut soup for her children and herself since she was hungry.
Her deed did not go unnoticed, as the money's owner learned about it, resulting in an altercation.
As a result of the dispute, Akua Akyaa injured her neighbor in an attempt to defend herself.
She was later arrested and brought before a judge after being reported to the police.
At the law court, she was charged with Ghc1,000 in damages and Ghc1,200 in court fines for injuring her neighbor.
She was sentenced to two months in prison for her incapacity to pay her fines.
Source: Gossips24.com
The post Mother jailed for stealing 5 cedis to feed her kids appeared first on Gossips24.com.