Samsung Galaxy M10 review
This Article Has Been Read 139 Times
!
Introduction
After making a couple of adjustments to its strategy, Samsung is finally ready to make a comeback to the low-end and mid-range markets. Enter the Galaxy M-series – the Galaxy M10, in particular. The phone is the cheapest from the lineup while trying to cover all of the basics. But it's going to be tough in India where the M10 is aimed at. We've got a couple of Chinese makers closing in on both sides so the competition is heating up.
The Galaxy M10, however, is one of the few Samsung-made devices with an IPS display instead of AMOLED but that was to be expected – the Korean giant wants to keep the cost as low as possible. We also have an octa-core CPU on board fitting nicely in the $130-150 price range. A big battery, an ultra-wide lens and a large screen are one of the key selling points.
However, when comparing the Galaxy M10 to the Realme 3 or the Redmi Note 7 (although a tad more expensive), Samsung's offering becomes harder to recommend. But there's probably more to it than just numbers on a specs sheet, right? Let's dive in deeper to see in which departments the Galaxy M10 shines and whether it worth your hard-earned money.
Samsung Galaxy M10 specs
Body: 155.6 x 75.6 x 7.7 mm, 163 grams, glass front, plastic back and sides.
Screen: 6.22″ PLS TFT (IPS), 720 x 1520px resolution; ~270 ppi.
Chipset: Exynos 7870 Octa (14nm) chipset: octa-core CPU (8x Cortex-A53 1.6 GHz); Mali-T830 MP1 GPU.
Memory: 2/3GB RAM, 16/32GB built-in storage, microSD slot support.
OS: Samsung Experience 9.5 based on Android 8.1 Oreo.
Rear camera: 13MP f/1.9, 1.12µm, 1/3.1″, PDAF support + 5MP ultra-wide f/2.2, 1.12µm; LED flash; [email protected] video recording.
Front camera: 5MP f/2.0; [email protected] video recording.
Battery: 3,400mAh.
Connectivity: Dual-SIM; LTE Cat.6 (300Mbps) download / Cat.6 upload (50Mbps), Wi-Fi b/g/n, GPS; Bluetooth 4.2 A2DP, LE, microUSB 2.0.
Unboxing the Samsung Galaxy M10
We've received the phone in its original packaging with the usual user manuals, SIM ejector and, of course, the microUSB cable for data transfer and charging. The brick supports only up to 5W charging (5V/1A) but you can squeeze in a little bit more juice if you use a third-party charger.
2. Design, build quality and 360-degree view
Design and build quality
Given the price point of the Galaxy M10, it would be too harsh to judge it by its materials. It's entirely made of plastic, except for the glass front panel, of course, but it doesn't bend, creak or flex – it feels quite sturdy. And look on the bright side, it will be way more difficult to break than a glass sandwich phone and cheaper to repair if you do. But keep it away from rough surfaces as the plastic is more prone to scratches.
But designers could have put a little effort in coming up with more color options. Surely, this is strongly subjective, but even the Realme 3 offers some kind of patterned design. Also, fingerprints and smudges are easy to see. The glossy finish is a big fingerprint magnet.
Anyway, aside from the pretty plain back design, the back plate also houses the dual-camera module in the upper-left corner along with the LED flash. There's also a small opening near the bottom that acts as a speaker grille. It takes us back to the times when Samsung was still putting the speaker grilles on the back. It gives it a bit of a clunky feel to it.
On the front, the device features a 6.22-inch Infinity-V display with acceptable side and top bezels while the chin looks a bit thicker. Infinity-V stands for a waterdrop-styled notch. The front-facing camera resides there along with the earpiece. The upper bezel also houses the proximity sensor – it can be seen only at a certain angle and isn't easy to spot.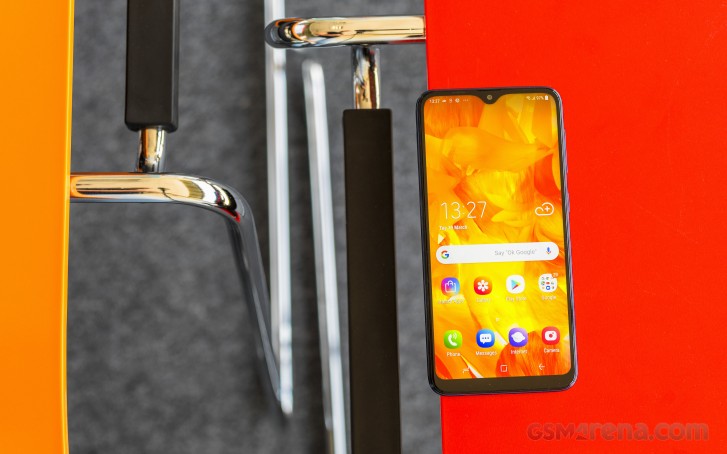 To be frank, 7.7mm in thickness is pretty good by today's standards, yet the sharp sides press against your palm when holding the device and give you the impression of being bigger than it really is. The slightly curved back helps a bunch but since the front's glass isn't rounded, it sticks out a little. The Galaxy M10 is definitely hard to use with just one hand if your palms are average in size.
The left side of the handset is reserved only for the SIM card tray that also has enough space for the microSD card without sacrificing the second SIM slot.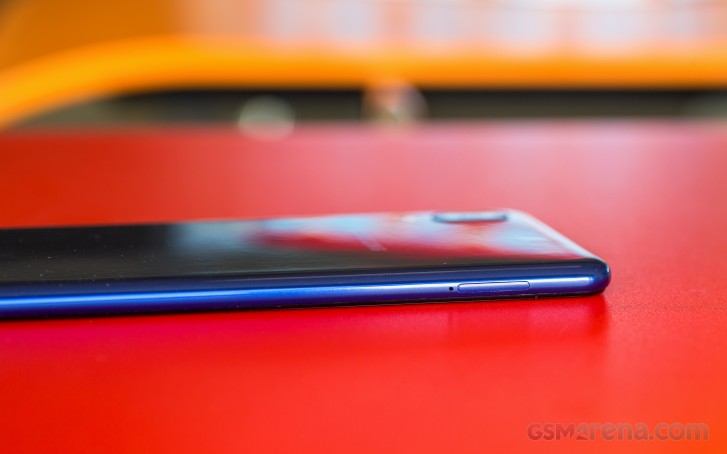 On the right, we find the power button, accompanied by the volume rocker. The bottom is where the microUSB port resides along with the main microphone and the 3.5mm audio jack.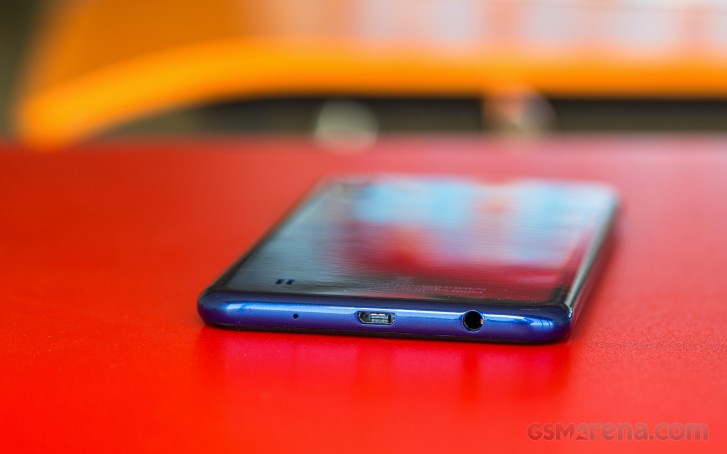 All in all, there's nothing to complain about given the asking price of the Galaxy M10 although we would have greatly appreciated more creative gradient color options and better ergonomics of the sides. However, those are strongly subjective and aren't a real deal-breaker by any means.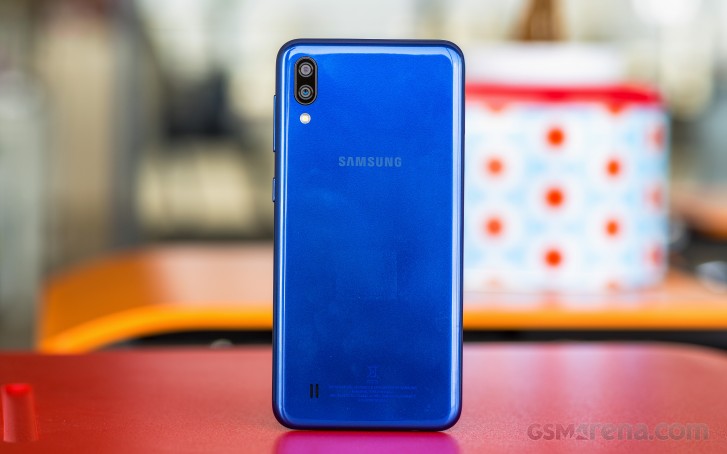 What isn't subjective is the use of microUSB instead of USB-C. We are pretty sure the latter isn't all that expensive and the former doesn't belong in a 2019 model, no matter the asking price.
And here's a 360-degree view of the phone so you can take a better look from all sides.
Infinity-V IPS display
This is one of the few Samsung devices with an IPS display, but given its target audience, it makes sense for the company to go with the standard LCD panel. The panel we are dealing with measures 6.22″ in diagonal and has an HD+ resolution of 720 x 1520px. The aspect ratio is 19:9 and has a teardrop notch on the top. Pretty minimalist.
We can't miss mentioning the slight edge bleed that we've noticed around the upper bezel and the notch. It's more prominent on a bright background and at an angle, and it's something we've seen on other low-end to mid-range phones as well.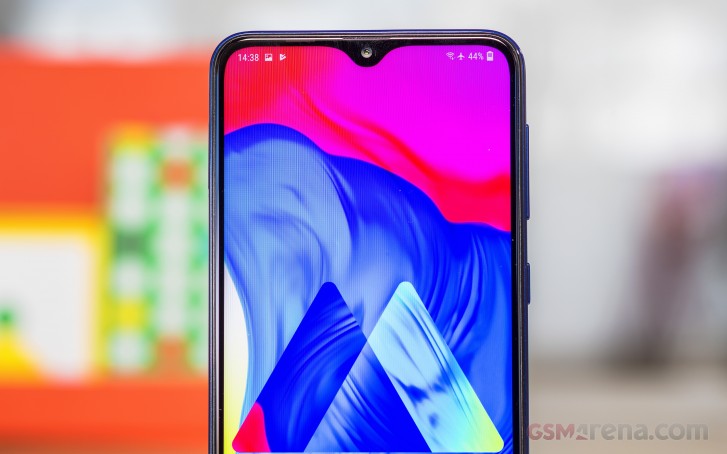 Brightness isn't impressive – just 402 nits. It will probably work for some outdoor use, but content will be barely visible in really bright environments or under direct sunlight.
Display test
100% brightness
Black, cd/m2
White, cd/m2
Contrast ratio
Motorola Moto G7 Play (Max Auto)
0.416
549
1320
Xiaomi Redmi S2 (Y2)
0.47
504
1072
Xiaomi Mi A2 Lite
0.385
488
1268
Xiaomi Redmi Note 7
0.358
479
1338
Motorola Moto G7 Play
0.297
436
1468
Sony Xperia L3 (Max Auto)
0.232
430
1853
Samsung Galaxy M10
0.34
402
1182
Sony Xperia L3
0.22
400
1818
Realme 3
0.263
385
1464
And despite the use of a standard IPS display, it seems like Samsung went overboard by trying to make the screen look more like AMOLED. Colors may look pleasing, but they are way off the charts. The whites are so blue that it's hard not to see it. The turquoise is over the top as well. The average dE2000 is 5.8 and there's no way to calibrate the screen – no presets and no color temperature adjustments.
Battery life
The Galaxy M10 comes with a 3,400 mAh battery and a particularly efficient Exynos 7870 chipset. However, the phone didn't exactly deliver in the screen-on tests like video playback and web browsing. The standby time, on the other hand, was pretty impressive, which could mean that the IPS display draws a little too much power than it should in on-screen tasks.
Still, an 89-hour rating isn't bad at all and should be enough to last you through a day even if you are a power user.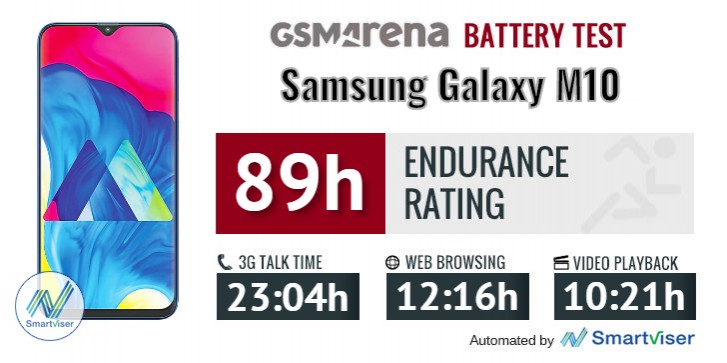 Our battery tests were automated thanks to SmartViser, using its viSer App. The endurance rating above denotes how long a single battery charge will last you if you use the Samsung Galaxy M10 for an hour each of telephony, web browsing, and video playback daily. We've established this usage pattern so that our battery results are comparable across devices in the most common day-to-day tasks. The battery testing procedure is described in detail in case you're interested in the nitty-gritty. You can check out our complete battery test table, where you can see how all of the smartphones we've tested will compare under your own typical use.
The charging speed, as expected, is the main drawback here. With the included charger, which is rated at just 5W, the phone charged only from 0% to 18% in 30 minutes. That's really slow.
Loudspeaker
The Galaxy M10 has a single speaker placed on the back of the phone, which isn't ideal for content consumption. When watching videos, the sound will go in the opposite direction. And to make matters worse, the loudness isn't all that impressive either. You will have trouble hearing your video or the phones ringing in loud environments.
| | | | | |
| --- | --- | --- | --- | --- |
| Speakerphone test | Voice, dB | Pink noise/ Music, dB | Ringing phone, dB | Overall score |
| Samsung Galaxy M10 | 66.2 | 71.7 | 80.0 | Good |
| Xiaomi Redmi S2 (Y2) | 68.1 | 69.6 | 82.2 | Very Good |
| Moto G7 Play | 66.6 | 74.4 | 81.8 | Very Good |
| Sony Xperia L3 | 70.9 | 73.3 | 81.9 | Very Good |
| Xiaomi Mi A2 Lite | 70.6 | 74.0 | 86.1 | Excellent |
| Xiaomi Redmi Note 7 | 69.8 | 71.5 | 90.5 | Excellent |
Audio quality
Samsung Galaxy M10 started off brightly, finishing the active external amplifier part of our audio quality test with top marks and garnishing that with nicely high volume – much better than we'd expect in this price range.
Headphones did harm the stereo quality somewhat and caused a small spike in intermodulation distortion, so the performance here was merely 'good', rather than 'exemplary'. Still, the impressive loudness remained, so overall we'd say the Galaxy M10 punches above its weight when it comes to audio reproduction.
| | | | | | | |
| --- | --- | --- | --- | --- | --- | --- |
| Test | Frequency response | Noise level | Dynamic range | THD | IMD + Noise | Stereo crosstalk |
| Samsung Galaxy M10 | +0.02, -0.02 | -90.7 | 90.6 | 0.0031 | 0.015 | -94.5 |
| Samsung Galaxy M10 (headphones) | +0.23, -0.18 | -90.4 | 88.6 | 0.022 | 0.251 | -49.0 |
| Realme 3 | +0.07, -0.04 | -93.5 | 93.4 | 0.0010 | 0.0067 | -91.6 |
| Realme 3 (headphones) | +0.50, -0.17 | -92.1 | 92.2 | 0.011 | 0.401 | -52.0 |
| Motorola Moto G7 Play | +0.07, -0.01 | -90.0 | 90.1 | 0.0019 | 0.015 | -92.9 |
| Motorola Moto G7 Play (headphones) | +0.16, -0.10 | -92.3 | 92.5 | 0.0069 | 0.164 | -64.8 |
| Huawei P Smart 2019 | +0.02, -0.02 | -93.1 | 93.0 | 0.0039 | 0.0088 | -81.9 |
| Huawei P Smart 2019 (headphones) | +0.64, -0.38 | -88.6 | 91.9 | 0.0069 | 0.606 | -50.6 |
| Honor 8X | +0.01, -0.04 | -92.3 | 92.4 | 0.0041 | 0.0085 | -80.7 |
| Honor 8X (headphones) | +0.45, -0.54 | -92.2 | 92.8 | 0.0084 | 0.492 | -51.5 |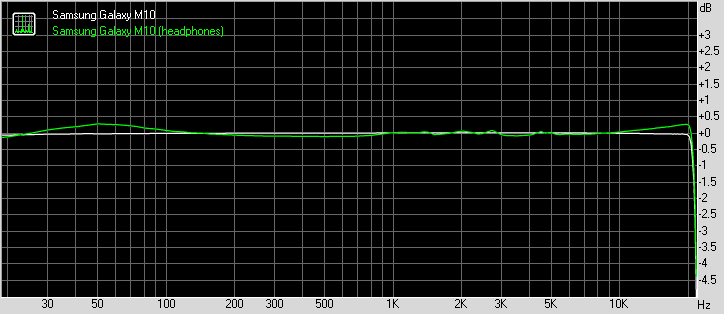 Samsung Galaxy M10 frequency response
You can learn more about the tested parameters and the whole testing process here.
Samsung Galaxy M10 user interface
Just as expected, the Galaxy M10 comes with the in-house Samsung Experience UI, version 9.5 based on Android 8.1 Oreo. Yep, you read that right, the company is launching the handset with Oreo out of the box while most of the competition has already moved over to Android 9.0 Pie. We don't know when the handset will receive an update to Pie or if at all.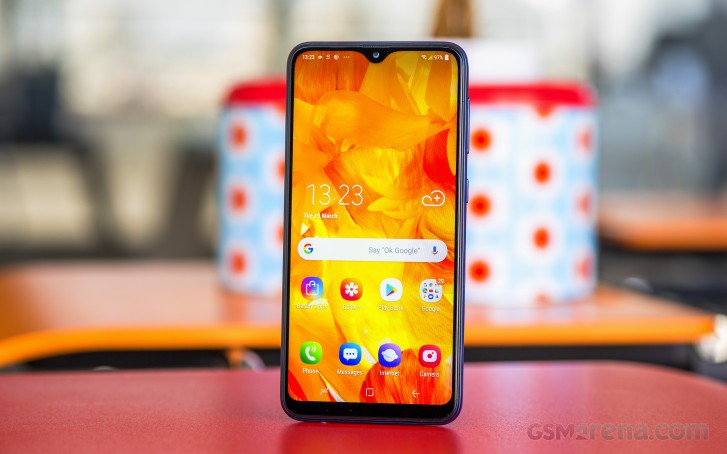 But some of the features like the gesture-based navigation introduced with the new One UI found on the flagship Galaxies, are here as well. You can, of course, opt for the standard software buttons if you don't like the swiping. Swiping from the center bar takes you back home, swiping from the bottom right acts as a back button while a swipe from the bottom left will open up the recent apps. The last two can be swapped if you prefer the traditional layout with the back button/gesture on the left.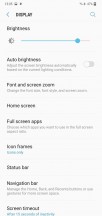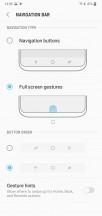 Display settings and navigation bar settings
Also, the general Settings menu has been revamped and it's more in line with the One UI appearance. Some of the settings have been grouped so it's easier to navigate.
As you'd expect from a low-end device, the Galaxy M10 doesn't really surprise with over-the-top features like the rest of the Galaxy devices. But there are a couple of useful ones.
For instance, you can set up a swipe down gesture from the home screen to bring down the notification shade since the default setting will open up the app drawer. The latter can be done by a swipe up gesture so it makes sense assigning the swipe down gesture for the notification panel? After all, the screen is pretty big and it's hard to handle with one hand so this gesture will surely come in handy.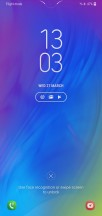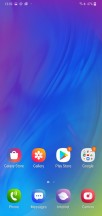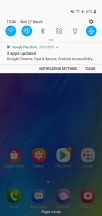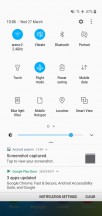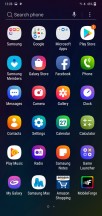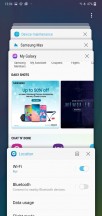 Lock screen, home screen, notification shade, app drawer, recent apps menu
Under the home screen settings sub-menu, you can also set the home screen to rotate along with everything else if that's your thing. And if you are coming from another iteration of a custom Android ROM, you can also disable the app drawer, which would force all apps to appear on your home screens.
Under the Display menu hide a couple of customization options allowing you to change the size of the font and the size of the UI elements. Some icon customization is also available but it's pretty limited – you can choose the default Samsung framing of the icons or go without the additional framing.
Of course, you can change them altogether along with the theme and wallpapers. You can download a bunch from the Galaxy store.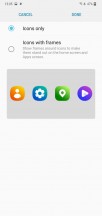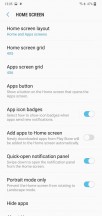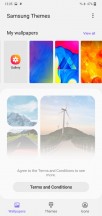 Icon and home screen customization, themes and icons
The Advanced features menu contains most of the useful features that you might end up using. The regular one-handed mode is in there as well as the multi-window shortcut – double tapping on the recent apps button will initiate split-screen mode. However, if you are using the gesture navigation, you will have to go to the recent apps menu and tap on the small sandwich-like icon next to the close button to select the app for the split-screen mode.
The Smart alert option is pretty neat – if you haven't touched your phone for a while, once you pick it up for the first time it will vibrate to let you know that there is at least one notification waiting for you. There's also the flip-to-mute gesture and the so-called Dual Messenger function that lets you use two accounts for the same app.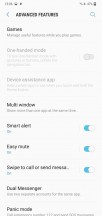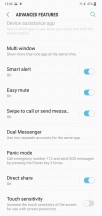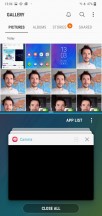 Advanced features menu and split-screen view
The Device Maintenance sub-menu holds all the important stuff like battery management, storage, memory, security and the ultra data saving feature. The latter helps you save some data if you are on a tight mobile data plan. It can limit the background data usage on some apps of your choosing.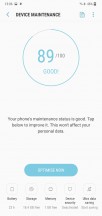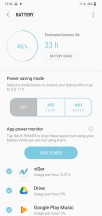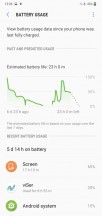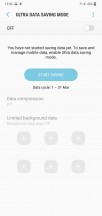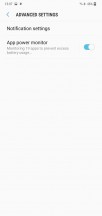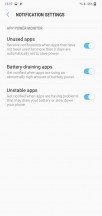 Device maintenance and battery features
The battery menu offers the options you'd expect – three power-saving presets – normal (named 'Off'), Mid and Max. The system constantly analyzes apps running in the background so you can put them to sleep if you are not using them. Or even restrict some apps running in the background at all. The battery usage graph and stats is at hand as well.
Scrolling a bit further down the settings menu we find the Biometrics and security menu. We were surprised to see it at all since the phone doesn't have a fingerprint reader. However, you can set up a face unlock. It's still less secure than the standard fingerprint scanner, though, and the instructions make it clear. There's also an option to enable fast facial unlock but that means making the whole process even less secure – the system prompts you with a message warning you that still images could potentially unlock the handset.
A couple of more options make it a bit more convenient to unlock the device – you can unlock the phone without swiping by just pressing the power button and the device unlocks instantly without swiping. It can also boost the brightness of the screen to illuminate your face for face recognition in poorly-lit conditions.
And regarding usability, we can't say we were impressed with the unlocking speed. After turning on the screen it takes a good one or two seconds to register the face and that's if the right light conditions are met. We also found it to be quite unreliable and erratic. To our surprise, typing in the PIN takes less time than the face unlock to kick in.
Aside from the features that we explored above, Samsung has included tons of pre-installed and proprietary apps. It can be overwhelming for some. On top of the usual ones like Internet, Calendar, Clock, etc., Samsung has included the Amazon Shopping app, a couple of Microsoft software and Galaxy store.
All in all, it's the usual heavy Samsung customization on top of the already aging Android 8.1 Oreo and since the phone uses an octa-core CPU that consists of 8x Cortex-A53 cores, you can't expect the best performance. We found some of the animations, transitions, menus and switching between apps to be sluggish at times so keep that in mind. But we didn't notice hangs or freezes, which is the good news.
Performance
The device is built around an Exynos 7870 chipset that has an octa-core CPU with eight Cortex-A53 cores clocked at 1.6 GHz and a single-core Mali-T830 MP1 GPU. Top-notch performance can't be expected but due to the lack of a high-performance cluster and the 14nm manufacturing process, efficiency is the main advantage of the SoC. Unfortunately, there are some similarly-priced rivals with more powerful chipsets like the Realme 3, for example.
In addition, the configuration comes in two variants – 2GB of RAM with 16GB of storage or 3GB of RAM with 32GB of storage. Needless to say, getting the 2GB/16GB variant would be a bad call in 2019 and not very future-proof.
GeekBench 4.1 (multi-core)
Higher is better
GeekBench 4.1 (single-core)
Higher is better
As expected, the chipset performs fairly well in multi-threaded tasks but falls short in single-core tests due to the low clock speed and the lack of high-performance cores.
AnTuTu 7
Higher is better
GFX 3.1 Manhattan (1080p offscreen)
Higher is better
GFX 3.1 Manhattan (onscreen)
Higher is better
The GPU is probably the main drawback of the SoC and it makes the phone really hard to recommend for gaming.
GFX 3.1 Car scene (1080p offscreen)
Higher is better
GFX 3.1 Car scene (onscreen)
Higher is better
Aztek Vulkan Normal (1080p offscreen)
Higher is better
Aztek Vulkan Normal (onscreen)
Higher is better
Basemark X
Higher is better
Dual-camera setup with an ultra wide-angle lens
Despite its drawbacks, the Galaxy M10 has a trick up its sleeve – an ultra wide-angle lens. That's a rare commodity in the low-end segment and it's cool to see the feature making its way down the price ladder. It's a low-resolution 5MP sensor with f/2.2 lens and 1.12µm pixels but it will do for dramatic effects and posting on social media.
The main camera is 13MP with f/1.9, 1/3.1″ in size and 1.12µm pixels. The main unit also supports PDAF (Phase Detection Autofocus) and it can shoot up to 1080p videos at 30 frames per second.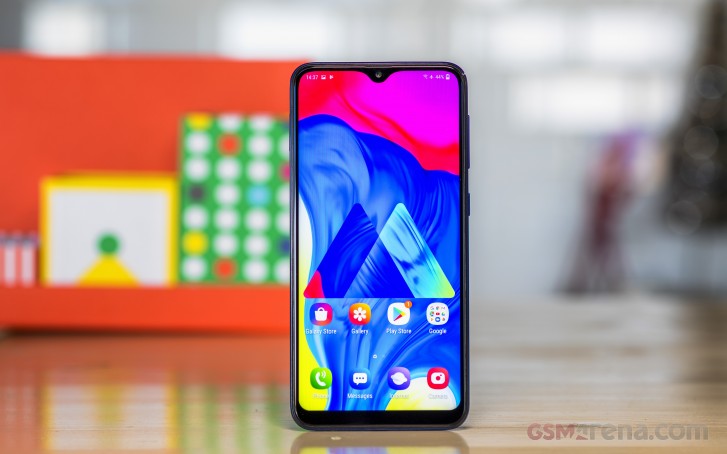 The front-facing unit is 5MP with f/2.0 opening but supports HDR and [email protected] video recording. And before we dive into the pixel-peeping, let's take a look at what the standard camera app menus can offer.
Camera menus
It's a pretty simple one – swiping left and right will switch between camera modes and right above the shutter button, you will find a couple of additional quick toggles for the aspect ratio, the front-facing camera, color filters, and the flash. There's also the switch between the normal and ultra-wide angle camera. Tapping on the settings icon gives you a bit more control.
The front-facing cam also supports a cool gesture – just show your palm to the camera and a 3-second countdown will start and take the selfie. It's a must-have feature if you ask us and it works quite well.
The camera modes include a Beauty mode, Stickers, continues shot, Panorama and Pro. All are pretty self-explanatory but the Live focus is actually the bokeh or the so-called portrait mode. You have the option to adjust a few settings like color pop and skin tone before you take the shot.
What we found a bit irritating is the video recording mode. The viewfinder doesn't display the correct framing of the shot for video so you will have to hold the record button to frame properly before starting the recording. It's a bit of a hassle.
Image quality
Given the price range of the phone, it's too naive to expect great performance in the camera department. There are too many hardware limitations, which can't be bypassed with software optimization. Having said that, the Galaxy M10 does have a couple of strong suits when it comes to still photography.
The contrast is nice, colors are okay and there's a good amount of detail. However, no matter if you use HDR on auto, on or off, you should expect a limited dynamic range. Shadows look way too dark and there are a couple of clipped highlights as well but the former issue is way more prominent. You can see that most of the photos turned out to be pretty dark even on this bright sunny day.
The wide-angle camera has a pretty prominent barrel distortion and there's no built-in algorithm to take care of this. But that's what you get from most ultra wide-angle lenses anyway.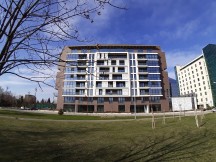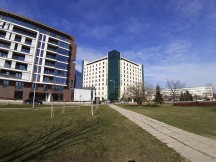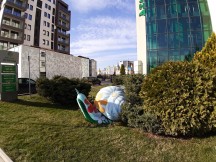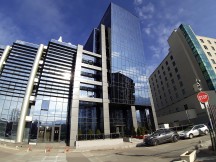 Daylight samples with the wide-angle camera
The detail, on the other hand, is better than you'd expect from a 5MP unit and if the light conditions are met, the noise is limited. The wide-angle photos also turned out to be brighter than the normal ones but highlights are clipped.
Now that we're done with the pixel peeping, let's take a look at how the Galaxy M10 stacks against some of its competitors in our controlled environment test.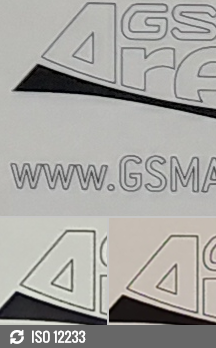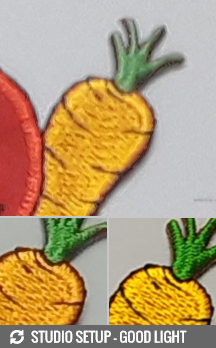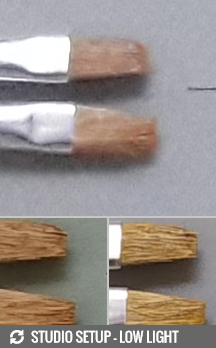 Samsung Galaxy M10 against the Realme 3 and Redmi Note 7 in our Photo compare tool
Portraits
The portrait shots capture the natural skin tone and detail is okay. However, the edge detection is below average – as the price range of the phone. You can almost say it selects the blurred subjects randomly. And interestingly enough, we found out that the wide-angle camera isn't utilized as a depth sensor so the whole edge detection is done entirely by software, hence the rather underwhelming result.
Selfies
Selfies are okay – natural skin tone with enough detail and rather impressive HDR capabilities. Keep in mind, though, that switching over to portrait mode will turn off the HDR and photos become a bit smoother.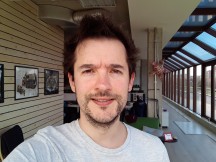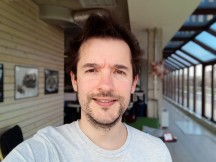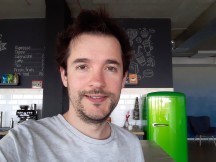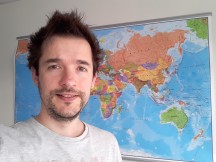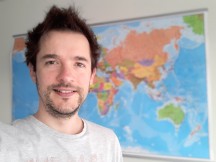 Selfie samples: Normal • Portrait • Normal • Portrait • Normal • Portrait
Low-light samples
Once the night drops, the noise becomes more prominent, the narrow dynamic range is once again problematic and you can even see a watercolor effect if you look from up close. The light sources lose their natural color as well. There's no dedicated night mode as well so you will completely lose detail in really dark environments.
Nonetheless, we find the low-light performance to be on par with the competition.
The low-light conditions took a toll of the wide-angle lens – no detail, hard to focus on the subject, plenty of noise but light sources appear more natural than on the normal nighttime photos. Curious.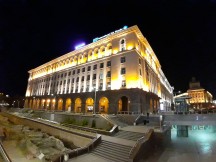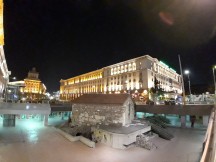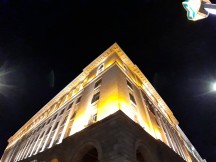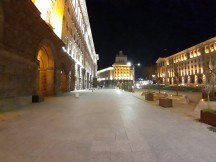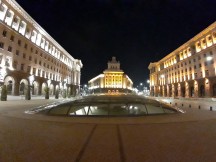 Low-light stills with the ultra wide-angle lens
Video recording
Due to hardware limitations, the Galaxy M10 can record videos up to 1080p at 30 frames per second. There are no other modes or features to go with it and it was to be expected. You can, however, use the secondary ultra-wide-angle camera for video recording as well.
To be frank, we were pleasantly surprised by the video quality – colors are punchy, there's no apparent noise during the day but the problem with dynamic range is here to stay. This time around, the highlights are more problematic. The same applies to the ultra wide-angle videos.
There's no stabilization and no toggle to turn it on so videos will always appear quite shaky.
And here's a side by side comparison between the Galaxy M10 and two of its competitors in video recording.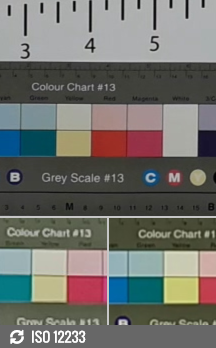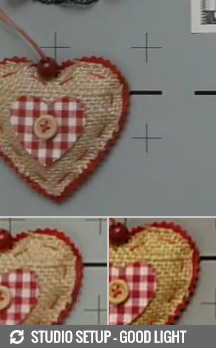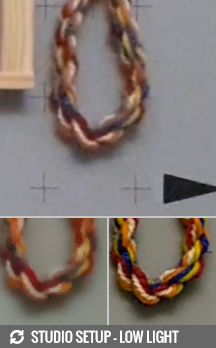 2160p: Samsung Galaxy M10 against the Realme 3 and Redmi Note 7 in our Video compare tool